CONTACT US & GETTING HERE
---
Where we are
Highball Climbing Centre 
1 Twickenham Road 
Norwich 
NR6 6NG
Telephone: 01603 513513 
Email: hello@highballnorwich.co.uk
Registered Company Number: 7848133 
VAT Registration Number: 141115857
We are located off Arms park road. When you see a big sign for DPD, turn left and we are in the building next to them. 
 
Plan your visit
Arrival time

: Please arrive 20 minutes before the start time and check in at Reception.

Getting here

: There is plenty of parking on site and there are buses that go from the city centre

What to wear:

 Wear loose comfortable clothing (what you would wear to the gym). The centre is not heated so in winter make sure you have some warm clothes. However, you will warm up while climbing- wear 'layers' that can be added/removed as required. Tie long hair back and remove jewellery. Bring some thin socks to wear with the climbing shoes.

Facilities: 

Showers and lockers are available.

Amenities:

 We have a cafe and climbing shop 
Bicycle
This is our number one form of transport and we actively encourage all our staff and customers to come to the centre via bike. Its cheap, quick and a great warm up for your muscles which will help prevent any nasty pull or strain injuries.
We have secure cycle storage for 15 bicycles (we can add more!) and everyone who arrives by bike is entitled to a free cup of tea!
Given how flat Norwich is and also how congested, it's very surprising that Norwich City Council doesn't yet provided a more extensive cycle network.
Highball will be campaigning for improved dedicated cycle routes in future!
Walking/Running
Norwich is always a lot smaller than you think and this is never highlighted more than when walking and running. If you live within a few miles (Hellesdon, Catton, Sprowston, Mile Cross etc.), walking or running are by far the best way to get to the centre. The paths are all paved and well lit, and again it will help get you warmed up for your session.
Car
We'd like to keep car usage to a minimum and would ask those of you who do need to drive to the centre to consider offering a car share to others. We are very lucky to have use of a very large car, but unfortunately it isn't all ours as it is 'shared' with other businesses on the estate. At times it can be busy; one such time is weekdays between 3pm and 7pm when our neighbour, DPD Local, need to back up their lorries in order to load the parcels they've collected during the day.
Coming to the centre before 3pm (Weekdays) 
If you come to the centre before 3pm (weekdays) please do not park on DPD's 'half' of the car park, especially behind the lorries, as we'll need to hunt you down and ask you to move your car so DPD can start their loading process.
Visiting us between 3pm and 7pm (Weekdays) 
If you come to the centre between 3pm and 7pm, DPD will be in the process of loading their trailers, so please park on 'our half' of the car park. Sometimes our half of the car park is full and you will need to park elsewhere on the estate – see overspill options, below.
Visiting Us at Weekends 
DPD Local do not open at weekends (except in the weeks leading up to Christmas), so 'our car park' is all ours – fill ya boots!
Overspill Car Park Options: 
The map details the various parking options. The units behind us are currently vacant, so please feel free to use the car park at the 'the other end' of our building and walk round. There is also a vacant unit on your right as you pull on to the main estate – you're safe to use this car park until the building is let. 
There is also another communal car park on Lansdowne Road, which is literally a 2 minute walk away.
Please do not park in front of any other business during their trading hours. 
There is a car share board in the centre where you can offer/ask for lifts.
Train
Norwich Train Station is about 4 miles away, just on the edge of the City Centre. You can combine the train with the bus, or why not take your bike aboard and cycle the rest of the way. Alternatively, if there's a group of you, come by Green Frog Taxi's and we'll give you a free drink.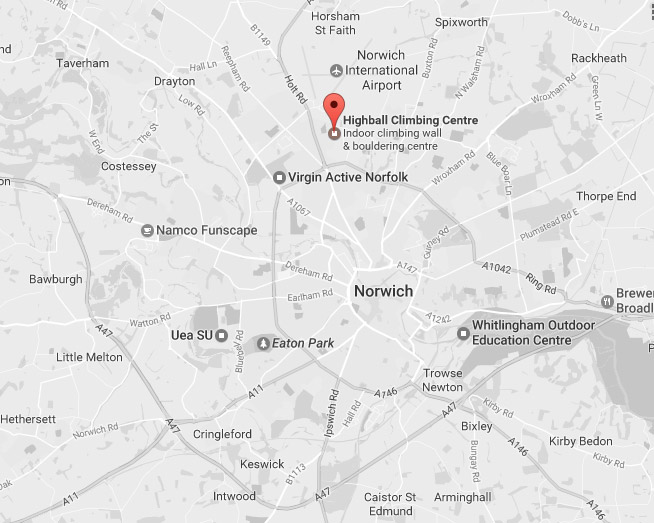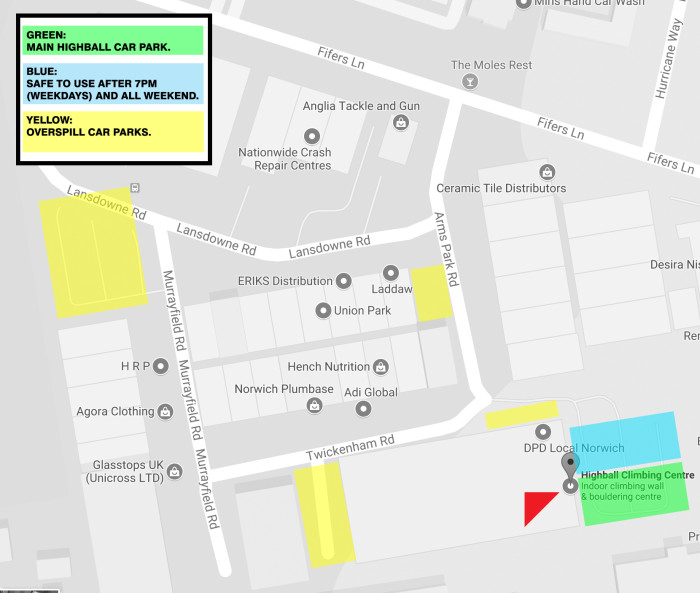 Bus
The nearest bus stop is on Vulcan Road, less than a 5 minute walk away. There is also another on Fifers Lane itself if you happen to miss that! These run regularly to and from the city centre and also come from the Lakenham and Brackondale area. There is a helpful bus route planner / route map PDF here.
Taxi
If 4 people share a Green Frog Taxi, bring in your receipt and you'll all get a free cup of tea of coffee.
Plane
If you're feeling fancy, then why not fly to Highball? Norwich International Airport is a short walk from Highball, so we're connected to the world via Amsterdam!
HERE FOR THE BIG FLASH?
WHERE TO STAY
Campervans are welcome to stay on site, we have a huge car park and Highball will be open from early morning until late every day. We have showers and a great cafe too.
If you're coming to Norwich from afar and making a weekend of it, you need to know we're 'really close to the coast' (say that 5 times!). The North Norfolk Coast has loads of great beaches, walks and pubs with great food! If you want any recommendations, drop us a line. Whether you come alone, with friends, your partner or your family, you will be all very welcome!