THE VENUE
---
Highball Norwich is a dedicated climbing centre; all our team are experienced climbers and our qualified coaches and instructors are able to develop climbers of all abilities, whether you're climbing for the first time or want coaching and support for long term goals. Highball is the biggest climbing centre in East Anglia.
We featured in OriGym's Top Eight Climbing Centre's (June 2018) in 7th, and climbers who visit from afar, like oop north, are always very complimentary – which is nice!
Norfolk's First Dedicated Climbing Centre
Almost 600m2 of bouldering walls up to 4.5m high
State of the art safety matting system
The largest competition grade bouldering wall in East Anglia
Lead and Top Roped Climbing up to 7.5m featuring 6 auto-belays
Strength and Conditioning area
Beastmaker Training Boards
40º Woody Board
Beta Café serving great coffee, tea and homemade cakes
Highball Shop, with competitive prices and great offers
A 2 room Multidisciplinary Clinic offering Osteopathy, Physiotherapy, Sports Massage and more
Book Exchange
Reference Library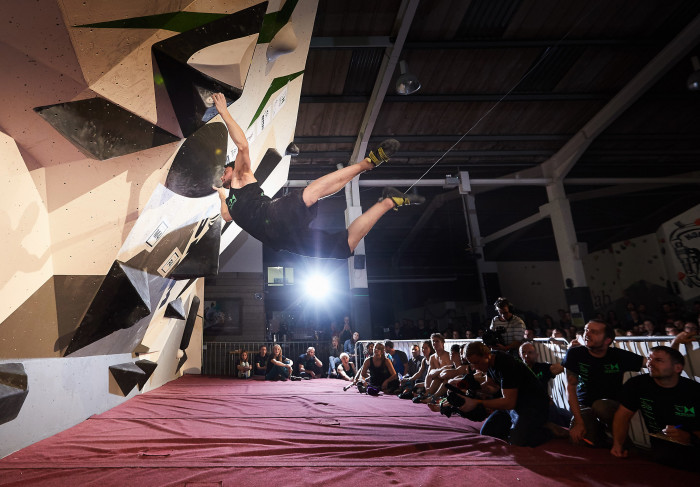 The BetaCafé
We use all local suppliers, where we can, to bring you the freshest ingredients. We use only free-range eggs and gluten free oats. Last year we switched to compostable packaging, and we are proud to say that the only plastic we sell products in is the occasional piece of cling film and the bottles that the water comes in. 20% of our water sales goes towards an ocean clean up charity, chosen by our customers.
We have homemade cakes and treats available every day. We also sell hot food, and every day we will have Chorizo flavoured sausage rolls, veggie cheese and onion rolls, and spicy vegan mushroom rolls hot and ready to go. We aim to always have something for everyone. Our stone pizza oven is the star of the show on Wednesday and Thursday Evenings <3
Life starts after a nice hot cup of tea or a warming coffee. Here at the Beta Cafe we get our beans from The Little Red Roaster, a small Norwich based company. A range of teapigs is also available, for those with a nuance to Tea.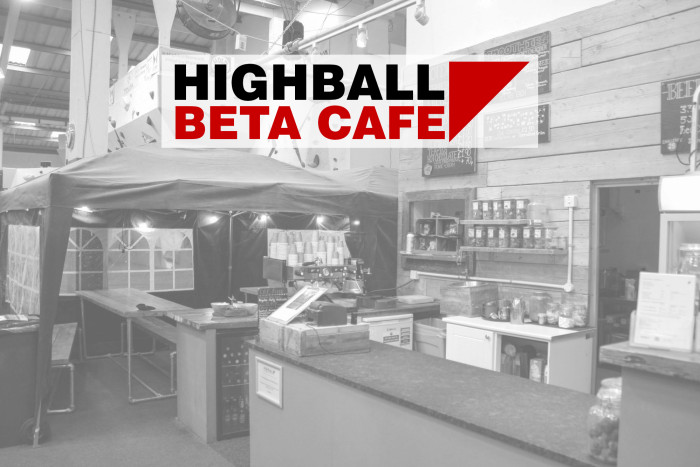 Bouldering
The bouldering areas have over 600m2 of bouldering surface most of which is up to 4.5m high. We have every wall angle you can think of, slab, vertical, steep and overhanging plus a huge free standing boulder. There's normally 8 circuits on the walls with around 20 problems per circuit. This means we've always around 160+ boulder problems between Font 3 to 7c-ish.
Problems are nicely spread out – we don't like cramped walls – and circuits are reset every 6-8 weeks by some of the best route setters in the world.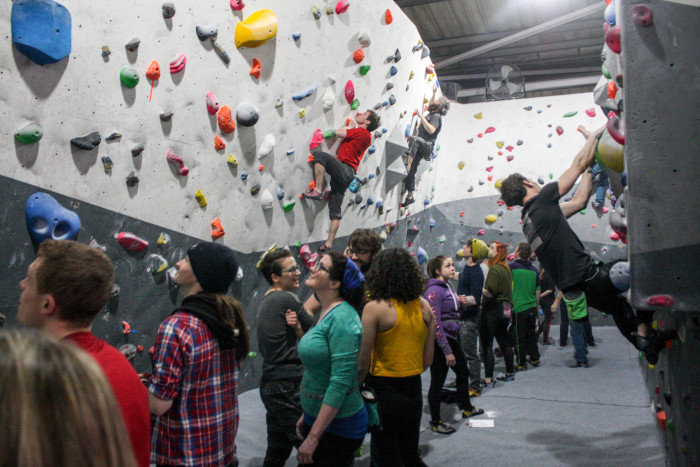 Roped Climbing
The double sided 'Hightanic' has 18x7m lines with at least 2 routes per line,  We have in-situ ropes for top rope climbers, 6 auto belays and almost all lines can also be lead climbed.

Grades range from F4 to F7a and we have specific routes for Junior Climbers and those working towards their National Indoor Climbing Award Scheme (NICAS)

There's even a section for dry-tooling!

Routes are reset every 3 months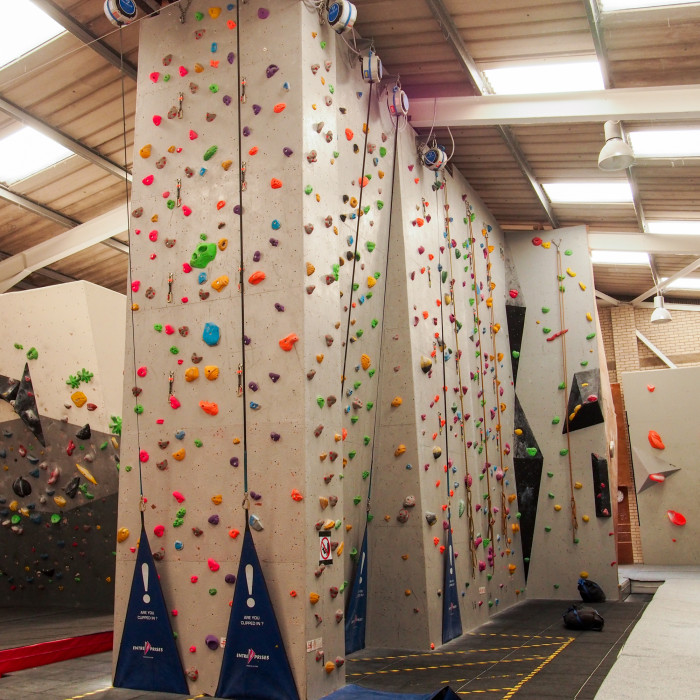 Training Area
"It's one of the best boards in the country" – Ben West
We're proud of our little Training Area. We've a 40 degree Beastmaker Woody and a huge campus board featuring rungs, rolls, spheres and other interesting stuff.

 

Strength And Conditioning Area
Our SACA (Strength And Conditioning Area) hosts a huge variety equipment to augment your climbing with workouts tailored for your style. With a huge rack of weights, resistance bands, beast makers, monkey bars, Bars and loads more, there will be something here for you to use.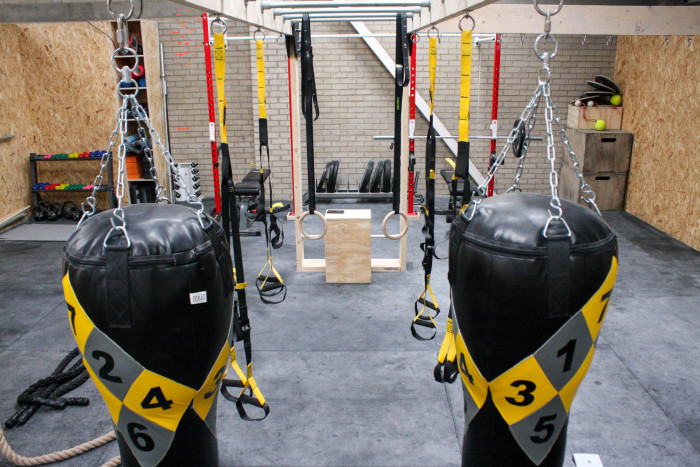 Stamina Board
Our stamina board is one of the biggest in the country – 6m wide, 4.5 high and 20 degrees overhanging. There's normally 6 infinite circuits on the board from F5 to F7c. The board is reset every 6 months.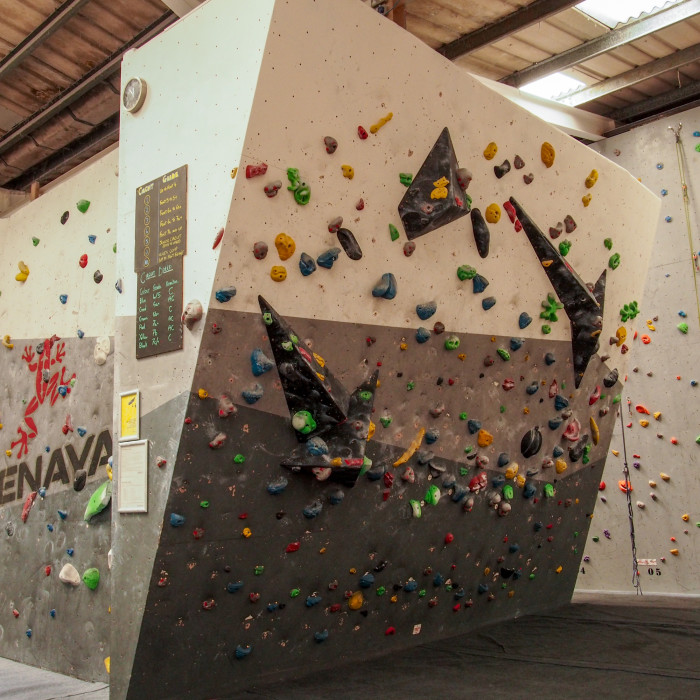 DMM Comp Wall
One of the biggest competition bouldering walls in the UK. However, size isn't everything – It's also bloody good. Vert, slab, roof, steep – it's got it all and with space to spare. Setting a competition is a doddle; you can really go to town and competing on it is as close to World Cup as you can get – without all that expensive jet setting!
The DMM Comp wall is available to The GB Bouldering Teams for training and comp prep, and to the national Junior Bouldering Comp Series too, if they want to use it. However, we've been told – in a round about way – that as Norwich isn't directly attached to the M1 or A1, it's unlikely we'll see you over here (not very inclusive, we know). But, our offer's always there, we're really not that far away (ask The Big Flash Competitors!)…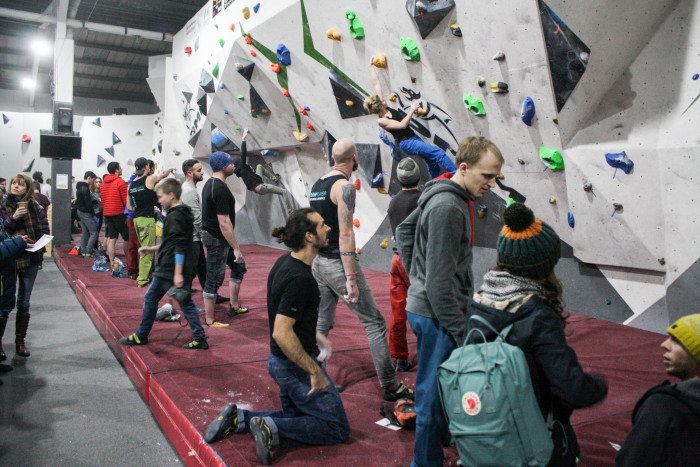 Squad Zone
Our new olympic-style area, which hosts over 150m2 of wall! An excellent area for our setters to really show some brilliant world-cup style blocs off, and for our boulderers to experience what world-cup style is like.