HIGHBALL BOULDERING LEAGUES
---
WINTER BOULDERING LEAGUE
We run a Winter Bouldering Competition, throughout the colder months of the year.
The Winter Bouldering League consists of number of rounds that normally take place on the last Friday of the month from 18:30 to 21:30.
Each round has 30 problems – set by some of the UK's best route setters – and are graded from a very persuadable Font 5 to 'very hard' (This seems to be the most common grade given by route setters for anything 'very hard').
The winners of each round are chosen via raffle which takes place at 9:30pm. The scoresheets which are handed in are collated and made available early the following week. Scores are mostly for personal pride and progression but, for those keen to compete and experience a world cup style final you'll need to finish in the top 10 overall to go through to a Showpiece Grand Final on the DMM Comp Wall.
SHOULD I GET INVOLVED?
Absolutely! Aside from being great fun, comp nights are a great way to challenge yourself. You can use them to monitor your progress and give you a monthly focus. You can enter on your own or, make it even more fun by entering as a team of four.
HOW DO THEY WORK?
A new 30 problem circuit will be set each month on the DMM Comp Wall
The problems will cover all grades from a challenging Font 5 up to 'Very Hard'.
The comp circuit will open 6:30pm and closes at 9:30pm – you have 3 hours to complete as many of the problems as you can.
Turn up on the evening, check in as normal and then buy your raffle ticket and scoresheet for £2. All money goes into the prize fund.
Record your attempts and successes on your Scoresheet.
Score yourself as you go round and, once you've finished, hand in your scoresheet at reception. Keep hold of your raffle ticket!
On 'Comp Nights' only those with a scoresheet can climb on the DMM Comp Wall, however, the rest of the centre is open as normal.
The raffle takes place at 9:30pm and if you're lucky, you'll win any number of prizes – see below.
You may also get the chance to 'Play Your Cards Right' and win a CASH JACKPOT.
Whilst the evening is very informal, there are a few rules: Read the rules.
To qualify for the Grand Final, you must attend a minimum of 3 rounds.
If you attend all 4 rounds, your lowest 3 scores will be dropped to produce your highest average score.
The Grand Final will take place on the DMM Comp Wall and will be in the same format as The Big Flash Semi Final.
Scores will be sorted into various age categories – see below – so you can see where you come with your peers, but please note, qualification for the Grand Final will be based on gender and overall scores, not age.
AGE CATEGORIES
We have now updated our age categories so they are aligned with the IFSC Youth Categories. The changes for the Winter bouldering league is below. To see the age categories for our other comps, see our dedicated Web Page
WINTER 18/19 BOULDERING LEAGUE
EVENT YEAR (BEGINS)
YEAR OF BIRTH
 
Veteran
Senior
Youth A
Youth B
Youth C
2019
In or before 1973
1974 to 2001
2002
2003
2004
2005
2006
2007
2020
In or before 1974
1975 to 2002
2003
2004
2005
2006
2007
2008
WHAT CAN YOU WIN?
On a comp night, 'winning' is not based on your score, it's purely raffle based to encourage participation, fun and make sure (hopefully) the prizes get shared around. Those wanting a bit more 'competition' can focus on the overall league table and hopefully earn a place in the Grand Final!
Typical 'Comp Night' Raffle Prizes Include:
5 Climb Passes
1 Month Free Coffee
1 Month Free Tea
Free Pizzas
Free 1hr Coaching Sessions
One lucky ticket An Opportunity to Play Your Cards Right' and win a cash jackpot of at least £25 (Highest to Date £100)
Plus various items of equipment e.g. chalk, chalk bags, clothing donated by round sponsors
Series Winners
The overall series winners will receive their prizes on the evening of the Grand Final. Prizes are normally a mixture of what is donated from sponsors and money from our prize fund. For example:
Climbing Shoes
Clothing
Exclusive Series T-Shirt
Chalk
DATES & ROUTE SETTERS
Winter Bouldering League 2019/20 Dates:
COMING SOON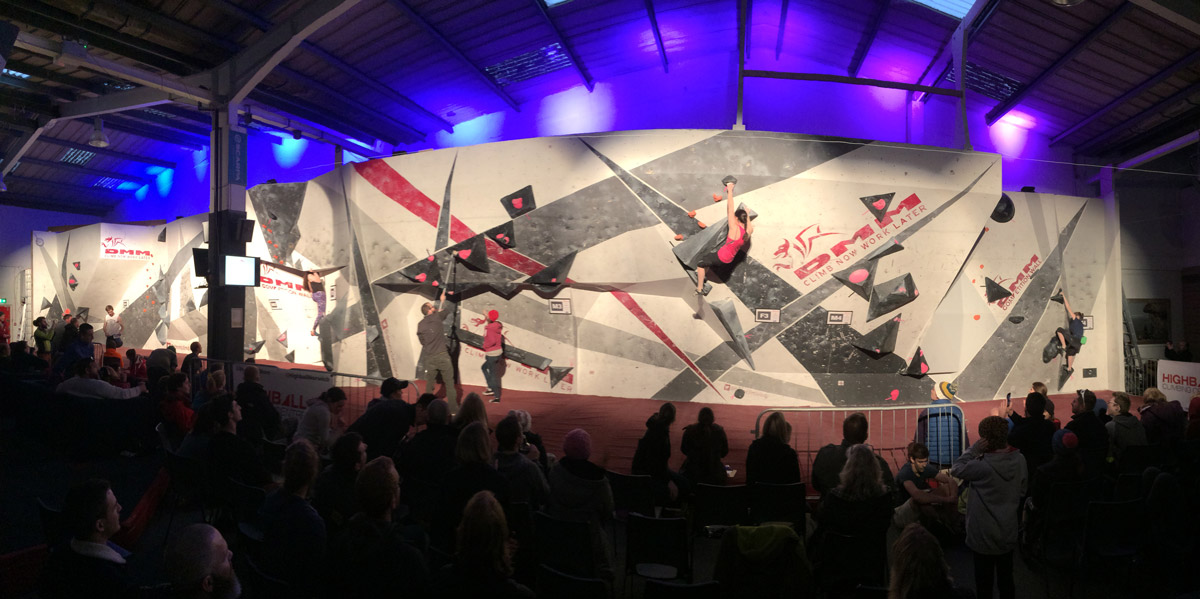 BOULDERING SERIES – GRAND FINAL
A Grand Final you say? That sounds rather grand! It is! and here's why.
You talked – we listened. While the NuKids get their own 'Masters Weekend' with a grand final, and the Big Flash caters for the national WADS – what do the local top boulderers get?
Well here's your answer. Each bouldering league is brought to a fitting climax where the top 10 scoring locals (Male and Female) who've attended a minimum of 3 out of the 4 rounds, will battle it out to be series champion.
THE BASIC GUMF
You must enter a minimum of 3 out of 6 rounds.
Your highest 3 scores will be added together to provide your total qualifying score
The top 10 male and female scorers go through to the final.
SCHEDULE
Isolation Opens 14:00 
Isolation Closes 14:30 
Grand Final Begins 15:00 
Finishing time estimated around 6pm 
 
FAQ 
Will the grand final be split by age category? 
No. As we regard this as our senior (adult) comp, only the top 10 male and females overall will qualify. If a junior qualifies for the grand final it will be an amazing achievement but the final problems will be set for adults – as all the qualifying rounds are.
How will I know if I've made the final? 
Once the final qualifying round (Round 6 normally) has ended we'll do our best to get the overall table published. Realistically, because of the admin involved, this will be the morning after the final round.
I've qualified for the final but I can't make it (or I don't want to take part) what do I need to do? 
Please let us know ASAP so we can contact someone else to take your place. The grand final is a great experience so we want to make sure all the places are filled. If you're not keen
Can I come and watch the Grand Final? 
Absolutely! We'll have around 100 seats available for spectators and we'll normally have some special food and drink on too. Come and cheer your friends on!
What time will the Grand Final start and finish? 
Keep an eye on social media for the exact times. We'll normally start it around mid afternoon so we're all wrapped up by closing time (18:30 – weekends). It will normally last about 2 hours.
Are there any special rules and how does the scoring work? 
Full details and rules can be found here.